2017
January

Saturday 21st @ Cambridge Indoors Winter Farmers Market
Local Food, Live Music, Arts & Crafts, Special Events
At the Cambridge Community Center - 5 Callender Street, Cambridge, MA 02139
Featured Artist Performance 12 to 2pm


March

Thursday 9th @ Plymouth Farmers' Markets
Indoors Season at Plimoth Plantation, 137 Warren Ave, Plymouth, MA 02360
2:30pm -6:30pm Featured Artist

May

Saturday 13th @ Mocha Maya's
47 Bridge Street, Shelburne Falls, MA 01370
8pm






past dates ----------------------------------------------------------
2016
August

Friday 12th @ FM Outdoor Series
City Hall Plaza, Brockton, MA 01370
12 to 2pm solo, acoustic

Saturday 13th @ Randolph Farmers Market
The Giffords Green, Randolph, VT
10am to 1pm solo, acoustic
September

Friday 16th @ Arts at the Armory Cafe
191 Highland Avenue, Suite 1-A, Somerville, MA
8pm

May

Saturday 21st @ Mocha Maya's
47 Bridge Street, Shelburne Falls, MA 01370
8pm

January
Friday 15th @ LANGOSTA LOUNGE ACOUSTIC CAROUSEL as part of the LIGHT OF DAY WINTERFEST
1000 Ocean Avenue at 2nd Avenue, Asbury Park, N.J. 07712
Jennifer will be performing at 9pm. The event takes place from 9pm until 1am.
Over 20 performers for the Acoustic Carousel Event.
The Light of Day Foundation, Inc., utilizes the power of music to raise money and awareness in its continuing battle to defeat Parkinson's disease and related illnesses such as PSP and ALS within our lifetime.


Saturday 30th @ The Plough and Stars
912 Massachusetts Ave, Cambridge, MA 02139
Jennifer will be performing with drummer Maureen Medeiros and special guest Mike Travers on electric guitar.
Bob Enik's Band will close the night.
10:00pm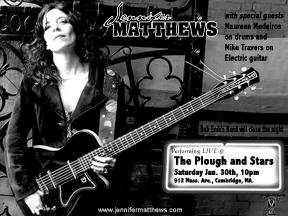 February
Wednesday 24th @ Aeronaut Brewing Company
14 Tyler Street, Somerville, MA 02144
Duck Village Stage
Jennifer will be performing Solo.
8pm

2015
November

Saturday 14th @ Bagitos Cafe
28 Main Street, Montpelier, VT 05602
solo 6 - 8pm
September

Saturday 5th @ Mocha Maya's
47 Bridge Street, Shelburne Falls, MA 01370
8pm
August

Saturday 29th @ Brockton Arts & Music Festival
Twin Salisbury Brook Parks on Montello St. (Rte. 28) right down between White Avenue and Crescent Street. Brockton MA. 02302

Jennifer will be performing with electric guitar player Jim Texeira. The Downtown Brockton Arts & Music Festival is a full day of live music, poetry, art, crafts, delicious food, kids activities and more.
11am - 7pm
Jennifer set time TBA
July

Saturday 11th @ Wild Flower Cafe'
8 Chestnut Street, Duxbury, MA 02332
with Doug McLaughlin and Friends
6:30pm - 10pm
May

Thursday 28th @ Langosta Lounge
1000 Ocean Avenue at 2nd Avenue, Asbury Park, N.J. 07712
Jennifer will be opening for Pat DiNizio of the Smithereens. This will be a special show as Jennifer returns to her home state of NJ.
6pm - 9pm

March

Saturday 21st @ Arts at the Armory Cafe
191 Highland Avenue, Suite 1-A, Somerville, MA 02143
7:30 Jennifer Greer
8:30 Jennifer Matthews with Jack Holland on Electric Guitar
9:30 Bell Wire
January

Friday 2nd @ Nelson Mandela Room
@ The Democracy Center, 45 Mt Auburn St, Harvard Square, Cambridge, MA 02138 ph.(617) 492-8855
Lo and Behold Poetry and Lyrics 7 - 10pm Jennifer performs at 9:30pm Hosted by Poet Laureate Lo Galluccio

Saturday 31st@ Stoughton House of Brews
28 Porter St, Stoughton, MA 02072 ph.(781) 436-8435
8 - 10pm
2014
october

Saturday 18th @ Arts at the Armory Cafe
191 Highland Avenue, Suite 1-A, Somerville, MA 02143

7pm

september

Saturday 27th @ Mocha Maya's
47 Bridge Street, Shelburne Falls, MA 01370
8pm

august

Saturday 9th @ Paradise Cafe
565 High St, Dedham, Massachusetts 02026
playing from 8:30 to 10:30.

Thursday 28th @ Club Bohemia
Cantab Lounge 738 Massachusetts Avenue in Central Square, Cambridge
10pm

june

Saturday 14th @ 17 State Street Cafe'
17 State Street, Newburyport, MA 01950
playing from 7 to 9:30.

may

Thursday 1st @ Club Bohemia
Cantab Lounge 738 Massachusetts Avenue in Central Square, Cambridge
8pm Also performing Nicole D'Amico and others TBA

Saturday 24th @ Out of The Blue Art Gallery
106 Prospect Street in Cambridge, MA.
An Evening of Painted Bodies 6
8:00pm
Come celebrate the SIXTH Evening of Painted Bodies show by basking under UV lights as resident artist Adam Canvas paints not two, not three, but four alluring models with glowing body paints. Dress in your finest UV reactive threads, enjoy some glowing refreshments and groove to the live music! Models: Nebulous, Goldie Red, Madison Grace & Hanz Music: dontnormally & live improv guitar by Jennifer Matthews

Saturday 31st @ Out of The Blue Art Gallery
106 Prospect Street in Cambridge, MA.
12-4....aRt ArT arT ARt aRT ART
7-9.....acoustic music featuring... Max Rose, Sophia Belle & Jennifer Matthews

march

Saturday 8th @ Out of The Blue Art Gallery
106 Prospect Street in Cambridge, MA.
An Evening of Painted Bodies 4
8:00pm
body painter Adam Giangregorio returns to the gallery to live paint two beautiful bodies with his unique body art designs. Live guitar and vocals provided by Jennifer Matthews.

2013
december

Wednesday 11th @ ZuZu
474 Mass Ave. Cambridge, MA
doors 9:30pm Jennifer @ 10pm
support; dancer, Helen Penelope Manzella & Lotusound

november

Thursday 21st @ Fazenda Coffee Roasters
3710 Washington St., Jamaica Plain (Across the street from the Forest Hills T)
The Inaugural New Sh!t Show-Boston!
7:30-9:30pm (Doors at 6:30)

Saturday 23rd @ Out of The Blue Art Gallery
106 Prospect Street in Cambridge, MA.
An Evening of Painted Bodies 2
8:00pm
body painter Adam Giangregorio returns to the gallery to live paint two beautiful bodies with his unique body art designs. Additional painting of willing members of the audience to follow. Live guitar and vocals provided by Jennifer Matthews.

october

Friday 4th @ Mocha Maya's
47 Bridge Street, Shelburne Falls, MA
8pm

Sunday 20th @ The Full Sail
47 Court St. Plymouth, MA.
5:00pm to 8pm

Saturday 26th @ The Funky Monkey Cafe & Gallery
130 Elm Street, Cheshire, CT
8:00pm to 10pm

september

Saturday 28th @ 'Tales of a Salty Sweetheart' CD Release Party!! AT Out of The Blue Art Gallery
106 Prospect Street in Cambridge, MA.
8:00pm... more details to follow

august

Saturday 10th @ Mobius Art Gallery
55 Norfolk St. Cambridge, MA
This is a special improvisational artistic performance where Jennifer will be providing the background music for improvisational performance artist Syed Burhanuzzaman.
6:30 - 8:30 PM

Saturday 24th @ Radio Bean
8 N. Winooski Ave., Burlington, VT.
8pm - 8:45pm

Saturday 31st @ Out of The Blue Art Gallery
106 Prospect Street in Cambridge, MA.
9:00pm... Last Saturday of every month Residency with Nicole D'Amico & Friends... lots of special guests!

july

Saturday 27th @ Out of The Blue Art Gallery
106 Prospect Street in Cambridge, MA.
9:00pm... My Politic, Nicole D'Amico & Friends, Deniz özçelik & Sam Franklin

Monday 29th @ ZuZu
474 Mass Ave. Cambridge, MA
10pm also performing will be guitarist Sam Franklin and Turkish singer Deniz özçelik

june

Saturday 29th @ Out of The Blue Art Gallery
106 Prospect Street in Cambridge, MA.
9:00pm... My Politic, Nicole D'Amico & Friends, Deniz özçelik & Sam Franklin

may

Saturday 18th @ Out of The Blue Art Gallery
106 Prospect Street in Cambridge, MA.
10pm - *The 16th Anniversary of Out of the Blue Gallery!

Saturday 25th @ Out of The Blue Art Gallery
106 Prospect Street in Cambridge, MA.
1030...Jennifer Matthews
930.....My Politic
900.....Nicole D'Amico & Friends

april

Saturday 6th @ Out of The Blue Art Gallery
106 Prospect Street in Cambridge, MA.
9:30pm

Saturday 20th @ Out of The Blue Art Gallery
106 Prospect Street in Cambridge, MA.
9:30pm

Saturday 27th @ Mocha Maya's
47 Bridge Street, Shelburne Falls, MA 01370
8pm

march

Sunday 3rd @ The Full Sail
47 Court St. Plymouth, MA.
5:00pm with Jerry Bates on Percussion

Saturday 16th @ Out of The Blue Art Gallery
106 Prospect Street in Cambridge, MA.
9:15pm

2012
november

Friday 2th @ Mocha Maya's
47 Bridge St. Shelburne Falls, MA.
7:00pm with Marcello Ozain on Drums

september

Sunday 16th @ THE NEW ENGLAND EXOTIC WILDLIFE SANCTUARY
OPEN HOUSE AND FALL FUNDRAISER EXTRAVAGANZA!
Hope Valley, Rhode Island
All proceeds go to support the work of Foster Parrots, Ltd. and the birds and animals of The New England Exotic Wildlife Sanctuary.

The event starts at noon and Jennifer will be performing 2pm to 3pm with Marcello Ozain on Drums. Also performing will be The Adam Ezra Group.
For info and tickets [click here]


may

Friday, Saturady 4 & 5th @ Highland Inn
Woman's Concert Series
240 Valley View Lane, Bethlehem, NH
8pm

february

Friday 17th @ Out of the Blue
106 Prospect Street, Cambridge, MA.
doors 7:00pm w/ Time & Place, Elephants & Jeff Sheldon

Sunday 22nd @ The Middle East Nightclub
472 - 480 Massachusetts Ave, Cambridge, MA.
doors 8pm support TBA

january

Friday 20th @ Out of the Blue
106 Prospect Street, Cambridge, MA.
doors 7:30pm w/ Shawn Johnson

2011
november, december

recording... "Tales of a Salty Sweetheart"


october

Saturday 22nd @ Neutral Ground Coffeehouse
5110 Danneel Street, New Orleans, LA.
8:00 PM - 9:00 PM

Friday 21st @ Fair Grinds
(Music, Artspace, Theatrical Coffeehouse)
3133 Ponce De Leon, New Orleans, LA.
7:00 PM showtime

august

Friday 12th @ New World
4101 Guadalupe St, Austin, TX
7:30pm - 9:30pm solo

Thursday 4th @ Kick Butt
4600 Guadalupe St, Austin, TX
9:00pm - 10:00pm solo

july

Sunday 17th JAM FEST @ Texas Mist
1115 Old Bastrop Hwy, Austin, TX
First band is on at 3pm... Jennifer's time slot tba
Great music, good bbq and a real good time!!

Thursday 14th @ Boneshakers
116 W Mitchell St San Antonio, TX
9:00 PM

Sunday 10th @ Filpnotics
1601 Barton Springs Rd Austin, TX
happy hour 6-7:30pm

Saturday 9th @ Junior's
119 E Main St Round Rock, TX
9:30 - 12:30, indoor bar, acoustic

june

Wednesday 29th @ Carousel Lounge
1110 E. 52nd Austin TX
7:00 PM - 9:00 PM

Saturday 11 @ Neutral Ground Coffeehouse
5110 Danneel Street, New Orleans, LA.
9:00 PM - 10:00 PM

march

Saturday 5 @ Black Dog Bar & Tables
360 Dock St., Cedar Key, Fl.
5:00 PM - 8:00 PM

february

Saturday 19 @ Cafe Bohemia
937 Central Ave., St. Petersburg, Fl.
8:00 PM - 11:00 PM

january

Thursday 6 @ Mine Shaft Tavern
2846 State Highway 14 N, Cerrillos, New Mexico
7:00 PM - 10:00 PM MDT

2010
december

Saturday 2nd @ Burt's Tiki Lounge
313 Gold Ave. SW, Albuquerque, New Mexico
10:00 PM MDT

november

Saturday 20 @ Mine Shaft Tavern
2846 State Highway 14 N, Cerrillos, New Mexico
7:00 PM - 10:00 PM MDT


october

Sunday 24th @ Integrative Intentions Hot Springs Outdoor Stage
400 Mims St, Truth or Consequences, New Mexico
Jennifer will open for Hudost – 3pm

Saturday 23 @ The Kosmos
1715 5th Street, Albuquerque, New Mexico
Jennifer will be opening for Hudost 8pm
HuDost functions as a duo or a band, incorporating musicians of varying sensibilities and backgrounds, and often including performance art, video installation and dance in their shows. A rich, eclectic blending of Pop and Rock with traditional Sufi music, Bulgarian, Croatian, Macedonian and Balkan folk music, Farsi, Turkish, Arabic, Folk, their sound crosses all borders and barriers, taking the listener on a journey they will not soon forget.

Thursday 21st @ Paul Olsen Gallery "In the Barn"
2850 Hwy 14, Madrid, New Mexico
Jennifer will be opening for Hudost… 7 - 10pm


september

Tuesday 7th @ The Historic Taos Inn
125 Paseo Del Pueblo Norte, Taos, New Mexico
7:00 PM - 10:00 PM MDT Solo

alaska summer tour
july

Friday 30th @ Brown Bear
Mm 103 Seward Hwy, Indian, Alaska
9pm

Wednesday 28th @ Casa Del Sol
Girdwood, Alaska
"In The Round" series featuring Jennifer Matthews, Melissa Mitchell & Ivan Night

Sunday 25th @ Panorama
224 Parks Highway, Denali, Alaska
"In The Round" series featuring Jennifer Matthews, Ivan Night, Jimmy Sandy, Larry Zarella & Caressa

Saturday 24th @ Taproot
3300 Spenard Rd, Anchorage, Alaska
8-10pm solo

Friday 23rd @ Fairview Inn
101 Main Street, Talkeetna, Alaska
10pm

Friday 23rd @ Live at Five: Talkeetna Village Park
Talkeetna, Alaska
The Live at Five Series is presented by the Denali Arts Council and the Talkeetna Chamber of Commerce. Jennifer will be performing in the park pavilion from 5pm to 7pm.

Thursday 22nd @ Humpy's
610 West 6th Avenue , Anchorage, Alaska
9pm Solo

Wednesday 21st @ Mountain High
Talkeetna, Alaska
noon til 4pm

Tuesday 20th @ The Salmon Bake
Denali Park, Alaska
10pm Solo upstairs

Saturday 17th @ Panorama
224 Parks Highway, Denali, Alaska
"In The Round" series featuring John Cook, Dan Lesperance, Jennifer Matthews & Ken Sease

Friday 16th @ Denali Education Center
Denali Park, Alaska
At the Charles Sheldon Center… this is a beautiful intimate listening theatre. The hall is made with beautiful post and beam construction, an 18-foot stained glass mural of the Alaska Range and an intricate tile mosaic of Denali making it an inspiring venue to host this musical event.
Jennifer Matthews & Milo Matthews 7pm

Thursday 15th @ The Marlin
3412 College Road, Fairbanks Alaska
9pm Jennifer plays a rock set with Milo Matthews playing drums

Wednesday 14th @ College Coffee House
3677 College Road Unit 4, Fairbanks, Alaska
8pm

Sunday 11th @ Mountain High
Talkeetna, Alaska
"In The Round" series featuring Jennifer Matthews, Milo Matthews, Jimmy Sandy & Larry Zarella 7pm

Saturday 10th @ The Salmon Bake
Denali Park, Alaska
10pm A night of music featuring Jennifer Matthews, Milo Matthews & friends s

Friday 9th @ The Salmon Bake
Denali Park, Alaska
10pm A night of music featuring Jennifer Matthews, Milo Matthews & friends

Thursday 8th @ Humpy's
610 West 6th Avenue , Anchorage, Alaska
9pm W/ Dan Lesperance

Tuesday 6th @ The Salmon Bake
Denali Park, Alaska
10pm Solo upstairs

Monday 5th @ Mountain High
Talkeetna, Alaska
noon til 4pm

Sunday 4th @ Mat Su Resort
1850 E. Bogard Rd., Wasilla, Alaska
3-7pm

Saturday 3rd @ The Silver Tip
Girdwood, Alaska
7-10pm

Friday 2nd @ Brown Bear
Mm 103 Seward Hwy, Indian, Alaska
9pm

Friday 2nd @ Girdwood Forest Fair
Girdwood, Alaska
12:15-1:15pm Beach Stage

Thursday 1st @ The Silver Tip
Girdwood, Alaska
8-11pm


june

Monday 28th @ Kharacters
3851 Shelford St Homer, Alaska
10pm

Sunday 27th @ Hooligan's
44715 Sterling Highway, Soldotna, Alaska
Jennifer will be playing from 8-11pm

Sunday 27th @ The 5th Annual Clam Jam
Baker's Clam Shell Lodge, Clam Gulch, Alaska
Jennifer will be playing from 1-2 pm

Saturday 26th @ The Kingfisher Roadhouse
19503 Sterling Highway, Cooper Landing, Alaska
7:30 pm Solo

Friday 25th @ Down East
1325 East End Rd., Homer, Alaska
9:00 pm

Thursday 24th @ Down East
1325 East End Rd., Homer, Alaska
9:00 pm

Sunday 20th @ Casa Del Sol
Girdwood, Alaska
"In The Round" series featuring Jennifer Matthews, Melissa Mitchell & Ivan Night

Saturday 19th @ Maxines
mile 0.3 Crow Creek Road, Girdwood, Alaska
8:00 pm Solo

Friday 18th @ Taproot
3300 Spenard Rd, Anchorage, Alaska
7-10pm pm W/singer/songwriter Melissa Mitchell

Thursday 17th @ Talkeetna Alaskan Lodge
23601 Talkeetna Spur Road, Talkeetna, Alaska
7-10pm