Archive
JUNE 2017
Endicott College to Host Young Writers
Workshop for Local High School Students
The Endicott Young Writer's Workshop, which will be held on
June 24-25, 2017
. This camp-like experience provides students who will be in grades 9-12 in the fall, and who have an interest in creative writing, an opportunity to meet other student writers and to work closely with three of Endicott's most accomplished professors and writers: Charlotte Gordon, Dan Sklar, and Elizabeth Winthrop.
To register
https://endicottyoungwritersworkshop.eventbrite.com

MAY 2017

**** "Aspect magazine (1969-1980) was the creation of Edward J. Hogan, of Somerville, Massachusetts. Hogan was a history major at Northeastern University in March of 1969 when he launched a magazine featuring social and political commentary by a small group of university students. Hogan subsequently expanded that magazine to include poetry, fiction, graphic design, and literary news and reviews. Aspect published many writers, poets, and artists that represented the "Boston Scene" of the late 1960s and 1970s." ( Keene State College Archive)


Somerville is a city of many dimensions. It is an eclectic urban soup of professionals, newly arrived immigrants, artists, students, dreamers, drifters, all living in close and hopefully comfortable proximity. What may not be immediate apparent is that it is and has been a city of small presses and little magazines. Offhand I could think of the Boston Literary Review, Dark Horse, Small Moon, Yellow Moon Press, Davis 2 Porter, Ibbetson Street, Abyss and a host of others. Of all these presses, some would argue that ASPECT MAGAZINE and ZEPHYR PRESS founded by Somerville's late Ed Hogan are the most notable.

June Gross, who was Hogan's wife and former editor of Somerville's Dark Horse Magazine told me over tea in her home outside of Union Square, Somerville that there was not much of a literary "scene" in Boston in the 70's, when Aspect was around. There was some activity in Harvard Square, and a fair number of transient small magazines that appeared and vanished into the ether. Reflecting on the Cambridge and Somerville literary milieu, Gross recalled:" People from Cambridge always said, ' Oh, I always get lost in Somerville.' People from Cambridge never came to Somerville. It was a blank space. Somerville was a blank space."


If what Gross said was true then Hogan certainly filled the void with his prolific output of magazines and books over the years. Hogan, who died at the age of 47 in 1997 in a canoe accident, ran Aspect from 1969 to 1980, and in this time published many writers who are well- known today. Looking at a back issue from 1977 the roster of poets was quite impressive. Respected bards such as: Robin Becker, Bill Costley, Anna Warrock, Joyce Peseroff, Fred Marchant, all graced the pages of this single issue.
Ed Hogan grew up in Ball Square Somerville. He wrote in the ASPECT ANTHOLOGY ISSUE that he saw his first "little magazine" at age 12. Hogan was from a working class background and had an average public school education. Later he entered the History program at Northeastern University.While there he was inspired by a Bible scholar to pursue writing. Soon after ASPECT was founded in March of 1969. The early issues were simply typed and mimeographed sheets with articles on everything from Edmund Burke to Rock-n-Roll. Aspect was creature of its time , and the writers often dealt with issue like Vietnam, Watergate and the Cold War.

In 1971 Aspect took a turn to the literary. Aspect's first directory listing for writers was in Trace magazine. Later they were listed in Len Fulton's Int. Directory of Small Presses. As a result Hogan was flooded with poetry submissions. And true to Somerville's scrappy outsider image, Aspect did not pander to the mandarins and the academics. Hogan wrote: "We went about editing without undue notice to academic standards or established reputations . Our contributor's notes showed fewer writer's involved in writing programs or English Department Careers. I like to think we were more open than most to varied sensibilities. As we gained confidence and sophistication we maintained a central concern for accessibility, directness, lack of pretension, and a belief that these values are not antipathetic to literary excellence."

Over the years Aspect produced a Double Fiction Issue that was supplemented by extensive reviews, and a bibliography of small press published fiction. The Third Boston Poets issue included an interview with Phil Zuckerman of Apple-Wood Books, one of Boston's most successful literary small presses.
As any small press publisher knows, it is necessary to have a cadre of loyal, often volunteer staffers to put out a magazine. Aspect had it. Whether on Robinson St., School St., or Ibbetson St, in Somerville, a collective of artists, and writers put out this innovative magazine. One of the staffers Susan Lloyd McGarry wrote: " editing a magazine collectively, as we do at Aspect, can be wearisome and trying to the temper. But the magazine gains immeasurably from the strength and energy of individuals who have an investment in all (of its) facets.without the others, that pleasure would not exist."
Around 1980 due to the amount of work that it required to run a small magazine and other personal problems, Hogan ended the enterprise. In its place Hogan, along with Miriam Sagan, Ronna Johnson and Leora Zeitlin, established a small press imprint ZEPHYR PRESS. Zephyr published primarily poetry chaps, literary fiction, and some non-fiction titles. Some of the releases were: AN EXPLORER'S GUIDE TO RUSSIA, and FROM THREE WORLDS: NEW UKRAINIAN WRITING. Hogan's crowning achievement was the COMPLETE POEMS OF ANNA AKHMTAOVA, (a famous Russian poetess of the 20th century), as translated by Judith Hemschmeyer. This collection was critically acclaimed by the New York Times Book Review, as one of the best books of 1990.
Len Fulton, publisher of the International Dict. of Small Presses wrote: " It is the Ed Hogans of the world that make it a better place, and it's the Ed Hogans of the small presses who have kept the movement honest and pointed in the right direction." And indeed Hogan was a dedicated man. Hogan embodied the feisty spirit of Somerville. He was an independent publisher from the wrong side of the tracks, who weathered many a storm and made his press work. His stepdaughter Viesia, recalled him hunched over a desk with an exacto knife for days on end, making sure things were just perfect. I think that's the way Hogan might have wanted to be remembered.

--Doug Holder *** This article was used in a course on the small press at Keene State College New Hampshire.





April 2017

The Boston National Poetry Month Festival, 2017
(a.k.a. the Somerville Poetry Festival ?)
by Kirk Etherton, B.N.P.M.F. board of directors


Somerville resident and an organizer of the festival Lucy Holstedt
Somerville has lots of fine writers--including songwriters. This Friday - Sunday (April 7 -9) you'll find a number of them in Copley Square. Most events take place at the B.P.L.
For starters, Bert Stern and Lloyd Schwartz are two of the 13 "Keynote Poets" you can hear Friday afternoon. Fridayevening, across the street, fellow 'Villen (& Berklee professor) Lucy Holstedt is producing a "Poetry, Music & Dance" concert, which features 10 original, diverse acts.
FYI, a majority of the Festival's board of directors live in Somerville, too.
Saturday, you can hear dozens of fine poets--among them Somerville's Tamlin Neville, and publisher / poet Gloria Mindock. I, too, am a resident of this fair city; I'll be the host all day. Granted, this entails introducing some truly great writers who live "elsewhere." Richard Hoffman and Fred Marchant are two such individuals. They both reside within a five-mile radius of my home--an area I sometimes call "Greater Somerville."
I'm very pleased that Boyah J. Farah will be a Special Guest. Mr. Farah is a teacher, poet, and nationally / internationally recognized essayist who has accomplished much since arriving here in the 1990's as a refugee from Somalia.
Sunday, Doug Holder--my neighbor here on School Street--is a featured poet, as well as the day's host. He'll introduce Boston Poet Laureate Danielle Legros Georges, acclaimed singer-songwriter Thea Hopkins, singer & ukulele player Madelyn Holley (age 5), and plenty of other fine talents.
NOTE: there are Open Mics on Saturday AND Sunday, a panel discussion on "Craft & Publishing," a conversation with former Cambridge Poet Populist Toni Bee, and more. See our website below for details.
This is a FREE festival, and I need to thank some of the fine local businesses who support us in so many ways: the UPS store on Somerville Ave.; Market Basket in Union Square; Davis Square Family Practice; International Optical; Master Printing & Signs; The Middle East & ZuZu in Cambridge; Pann Home Services; boloco; Dudley Cafe; great bookstores; Boston Area Small Press and Poetry Scene (a first-rate arts blog), and Coastal Windows & Exteriors I've had great experiences with all of them.
Many have ads in our printed program. They're also listed in the "Directory" section of our website:bostonnationalpoety.org
A special "thank you" this year to WBUR, for being an official media sponsor of this extremely diverse poetry (& music) festival.
Thanks this year, as every year, to The Somerville Times.
Recently, I was talking with the owner of Coastal Windows & Exteriors, (a sponsor of the festival) telling her how much my wife and I enjoyed all the replacement windows her company had installed in our house. She said, "I wish you'd write a poem about that!" So I did.
Thinking About Windows
I love, how I love not thinking
about them: now, finally, we are
simply warmer (or cooler) as we wish.

We can watch the
wind-blown trees without
feeling or hearing the wind.
Opening any window, I adore
not needing to think about it,
using one finger—not two hands.
I love looking out windows to
notice only clouds, un-obscured
by glass that's difficult to clean.
Look into our windows and
see our eyes, the windows to
our now undistracted souls.
— Kirk Etherton

March 2017

2017 JEWISH POETRY FESTIVAL
Contact: Deborah Leipziger, Curator
Sunday, March 5 from
2:00 to 4:00 P.M.
Deborah Leipziger, curator of the 8th Annual Jewish Poetry Festival, announced the event will take place Sunday, March 5 from
2-4 p.m.
at Temple Sinai, 50 Sewall Avenue, Brookline, MA.

Founded by Ms. Leipziger the Jewish Poetry Festival brings together Jewish poets as well as non-Jewish poets who write on Jewish subjects.
Ms. Leipziger said, "Now in its eighth year the Jewish Poetry Festival has grown beyond Brookline's borders and is a welcoming venue for not only our feature poets, but also for many people both Jewish and non-Jewish who have written poems on the central themes of family, community and Jewish life. All are welcome to attend and to read their poetic work"

This year's featured poet is Rabbi Rachel Barenblat, named in 2016 by the "Forward," a national Jewish newspaper as one of America's Most Inspiring Rabbis. Ordained by ALEPH: Alliance for Jewish Renewal in 2011, she is the author of four book-length collections of poetry as well as several poetry chapbooks.
Since 2003 she has blogged as The Velveteen Rabbi and in 2008, TIME named her blog one of the top 25 sites on the Internet. Her work has appeared in numerous online and print media.

Rabbi Barenblat serves as spiritual leader of Congregation Beth Israel in western Massachusetts, which is affiliated with the Reform movement and is also part of the ALEPH network. Since the spring of 2016 she has been interim Jewish chaplain to Williams College.
Following Rabbi Barenblat's reading there will be an open mic for people to read an original poem on the themes of family, community or Jewish life. Open mic readers may sign up at the entrance.
Master of Ceremonies for Festival is Professor Larry Lowenthal.


February 2017


Poet Gloria Mindock: New Poet Laureate of Somerville On January 11, 2017, in Latest News, by The Somerville Times

*




I am pleased to announce that Gloria Mindock will succeed Nicole Terez Dutton as Poet Laureate of Somerville as of Jan. 2017.
The Laureate Panel, that consisted of Harris Gardner, Doug Holder, Kathleen Seward, and Glenn Ferdman, had a hard choice to make, but we are confident that longtime Somerville resident/poet/publisher/activist Gloria Mindock is the best choice. The notable runner-ups were Kirk Etherton and Ralph Pennel.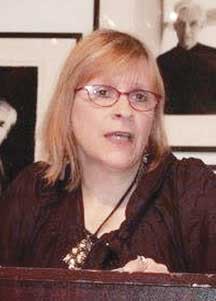 Gloria Mindock , the new Poet Laureate of Somerville.
Mindock has a long history as a significant literary figure in Somerville, and has provided venues for readings for many years. In terms of outreach, publishing, and promoting, she has few equals in Somerville. I would like to thank Greg Jenkins of the Somerville Arts Council for making this happen.
Gloria Mindock is the founding editor of Cervena Barva Press and one of the USA editors for Levure Litteraire (France). She is the author of Whiteness of Bone, La Portile Raiului, translated into the Romanian by Flavia Cosma, Nothing Divine Here, and Blood Soaked Dresses.
Widely published in the USA and abroad, her poetry has been translated and published into the Romanian, Serbian, Spanish, Estonian, and French.
In 2014, Gloria was awarded the Ibbetson Street Press Lifetime Achievement Award and in May 2016, Gloria was the recipient of the Allen Ginsberg Award for community service by the Newton Writing and Publishing Center.
Gloria recently was published in Akadeemia (Estonia), Poetry.com, Gargoyle, and her work is forthcoming in the We are You Project Anthology.
Mindock runs the Cervena Barva Bookstore in the Somerville Arts Armory, as well as running, and co-running two reading series in the same facility.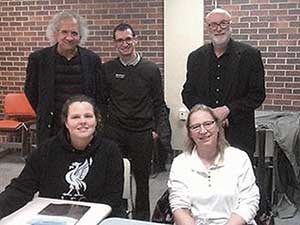 Laureate Panel, back left to right: Harris Gardner, Glenn Ferdman, Doug Holder; front left to right: Kathleen Seward, Linda Conte.

January 2017
The 40th Issue of Ibbetson Street magazine to be celebrated Jan 11, 2017
Ibbetson Street--a publication of the
Ibbetson Street Press
was started in 1998 on Ibbetson Street in Somerville, Ma. by Doug Holder, Dianne Robitaille, and Richard Wilhelm. We have a great lineup of poets in Ibbetson 40, including Marge Piercy, Kathleen Spivack, Mary Buchinger Bodwell, Brendan Galvin, Ted Kooser and many others.
The potluck and reading for Ibbetson Street #40 will be held at the central branch of the Somerville Public Library on Highland Avenue, Somerville, next to the high school.
It will be in the "auditorium" on

Wednesday, January 11, 2017

.
Potluck is at

6:00 P.M.

Reading begins at

7:00 P.M.

We will be finished and out of the library at

8:45 P.M.
There is free parking on-site.
Also, you can get the #88 bus from Davis Square. There is a bus stop almost across the street from the library. Everyone who has a poem in Ibbetson Street #40 can sign up to read their poem. The room has seating for about fifty people.
In poetry and in friendship,
ARCHIVES 2016-2012